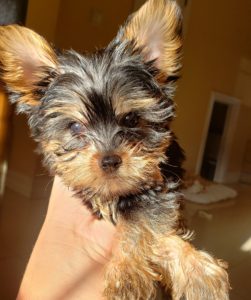 Yogi was born in Grand Cayman, Cayman Islands on July 9th, 2019. I'm a small pupper from a small island but I have a big personality!
My favorite toy is the lamb, the legend, the one and only, Lamb Chop! I also have a love for socks and toes and I love to play fetch (but I'm still getting use to the giving it back part) so that means I also love to play tug of war with my mom.
I was the runt the litter and a lot of people were worried about me because all my siblings were getting bigger and eating and I wasnt! But I just took a little longer… my big personality just needed more loading time than others! 😉 My new mom never gave up on me, she made sure to look after me and got me everything I needed.
Today, I'm stronger, faster (and better) than any dog out there! I love baths and I love the water, I'm an island boy for a reason! My mom doesn't believe in docking tails so I have one I love to wag! I'm a major lap dog and demand all the love and attention and I'm so cute I always get exactly that! I'm fairly new to the world as a small pupper but also new to instagram!
Follow me to watch me grow up and discover the world starting on my beautiful island, Grand Cayman in the Cayman Islands located in the Caribbean!