Rocket the Traveling Yorkie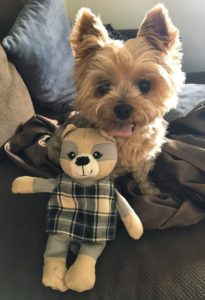 Hi, my name is Rocket! I'm originally bred and born in Texas but currently live in Louisiana! I've gotten to travel to several several cities such as Houston, Los Angeles, Las Vegas, Seattle, Hilo, and Honolulu. Even though the south is extremely hot, it's home! My mum and I still manage to get my walks and exercise in daily.
My favorite food is chicken! Boiled chicken, chicken flavored treats, chicken flavored bones, chicken flavored toothbrush treats… the list goes on! I also enjoy car rides with my parents with the windows down! I'm pretty petite so I like to have my paws propped up on my parents arm so I can get a whiff of the breeze and be able to sniff everything we pass. When the weather permits, mum and dad take me to the dog park where I get to meet new friends!