Creampuff the Polish Bacon Enthusiast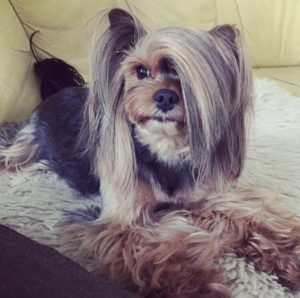 Creampuff – bacon enthusiast, traveller, adventurer.
Creampuff lives in Warsaw, Poland. She is a 6 year old girl yorkie, but she's a puppy at heart!
Puffy was adopted from a puppy mill where conditions were obviously terrible.
Thanks to her loving family she went through an amazing transformation – from a petrified baby who was scared of everything, into a confident, friendly and happy young lady. 
Creampuff lives with her mummy but spends a lot of time with her grandparents too. She loves going to the cottage house with them, where she can run all day long leash free and bark at cats as much as she wants!
Puffster had a chance to be a model on two occasions. First to a clothing brand for doggies – she modeled a winter onesie. Second – funny enough she took part in a photo shoot of high end carpentry pieces. 
You can see these and more photos on her Instagram profile, which is gaining lots of new followers every day.
Check it out here!
Apart from being a total eye candy, Puffy is also very smart. She knows plenty of tricks, like high fives, play dead or roll over.
She also knows how to win the hearts of all her hooman friends and trick them into giving her food. That might be why she is a bit on the heavier side, but she insists that's she's just still carrying some "holiday weight".
Creampuff's mum is actively involved in Animal Protection in Poland. She is a part of "Hope For All Pets" organization. The organization hosts fund raising events, run a "doggie market" on FB to collect money for medical treatment, helps strays find new temporary and forever homes. 
Please follow Puffy's adventures on her Instagram account:
Here