Bebe & Jolie the Yorkie Sisters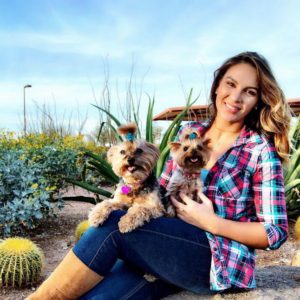 Hello! My name is Priscilla and I'm from the East Coast and recently moved to Arizona. I am totally obsessed with my dogs Bebe and Jolie. I started Prisky Paws, as a way to share my funny moments, tips, tricks, product reviews and doggie deals with other dog lovers. Ever hear of how some people just enter your life and leave a footprint? Well, PriskyPaws is about how my two dogs have left a pawprint in my heart. They are both seniors and are unique because they have been with me through three decades of my life. I got them both as a teenager and now I'm in my 30s! They are 16 and 13 respectively, basically fossils! Here are some quirks about each one!
Meet Bebe:
Bebe is a standard sized Yorkshire Terrier born on January 15, 2003 and has lived a very privileged life so far. She knows a ton of tricks already, but now enjoys just sleeping and eating! Her favorite toys are small squeaky balls and empty toilet paper rolls. Bebe doesn't like bows very much but I insist on placing some on her at least for special occasions. Bebe loves belly and neck rubs and surprisingly bubbles! Ocean waves and bubble baths are her favorite she always loves trying to eat the bubbles!
Meet Jolie:
Jolie is a teacup sized Yorkshire Terrier born on August 2, 2006. She is a super spoiled alpha dog. Her big sis, Bebe thought she was the alpha until she arrived and a few nibbles to her ear quickly changed her mind. Jolie loves playing dress-up and getting her hair done. She especially loves getting combed, as it seems to really relax her! Jolie knows a few tricks but prefers looking cute and sleeping in the sunshine instead. Her favorite toys are the small plush one with the squeakers in them from Kong. She also loves to steal toys from Bebe!